How to Create the Perfect Spring Outdoor Party
April 27, 2017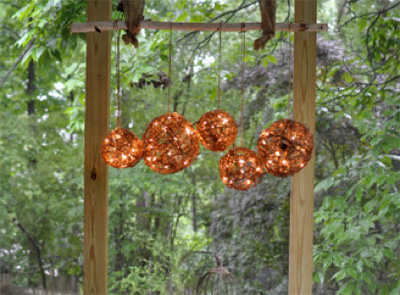 With the weather warming up, it's likely that you'll be taking your household get-togethers outdoors to fully appreciate the change of seasons. Lean into the backyard season head-first this year and get things started with a party the block is sure to remember. With these decorations, drinks and activities, you'll have an unforgettable backyard get-together.
1. Outdoor Chandelier: This crafty outdoor chandelier will help create the perfect ambiance for your first outdoor get together. It will help illuminate both your yard and conversation on your backyard-decoration skills.

Supplies:
• Grapevine balls, preferably different sizes
• 2 sets of 50 count white lights with brown wires
• Garden twine
• Ribbon
• Branch or railing to hang lamp from

Steps:
1. Thread the white lights into the grapevine balls.
2. Tie the wires into place inside the grapevine balls with the garden twine.
3. Where each grapevine ball connects, tie them together with garden twine.
4. Tie the top of each ball with a string of ribbon and then tie each ribbon to the branch or railing which you will be hanging the chandelier from.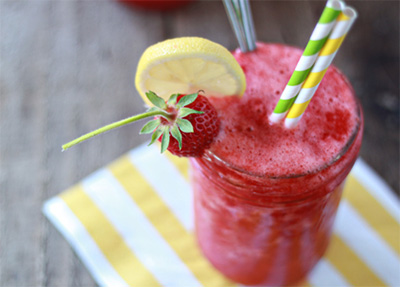 2. Strawberry Lemonade Slushie Cocktail: This tasty beverage will hit the spot for your first outdoor get-together in celebration of the warmer weather. Use this easy recipe to kick off the spring season.

Ingredients:
• 1/2 cup of sugar
• 3 cups of water
• 3 cups of fresh strawberries, hulls removed
• 3/4 cup of fresh-squeezed lemon juice
• 3/4 cup of vodka
• 1/3 cup of Cointreau liquor
• Strawberries and lemon slices for garnish

Directions:
1. Add 1 cup of water and sugar to boil until the sugar has dissolved. Remove from heat and add the remaining 2 cups of water.
2. Pour water into a blender along with the strawberries, lemon juice, vodka and Cointreau. Puree the mix until smooth.
3. Pour mix into a large freezer-safe container and seal with a lid or plastic wrap. Place into a freezer and let freeze solid for 4-6 hours.
4. Once frozen, remove from freezer and scrape with a fork to loosen ice. Stir with a spoon to mix ice until smooth.
5. Spoon the mix into glasses and decorate the glass with a strawberry and lemon.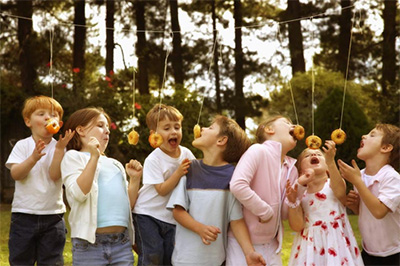 3. Donut - String Game: Have some fun with your guests with this outdoor game. This will be sure to get some laughs, create memories and will set the tone for your outdoor season.

You'll need:
• String
• Donuts
• Something to tie the two ends of string to

To set up:
• Tie several donuts to string
• Tie each of those strings to a long string
• Tie each end of the long string to a pole or tree so that the donuts are suspended off the ground at eye-level

Rules:
• All participants must hold their hands behind their backs
• Whoever finishes their donut using only their mouth wins!
• For extra laughs, have two adults hold each end of the long string to move the donuts around as participants try to eat their donuts
Photos courtesy of: All Things Heart and Home, MomJunction, Kitchen Treaty