Learn What Landscape Architects & Professionals Say About Personalizing Landscape Design
April 14, 2017
Why second-guess when planning a backyard makeover or creation of more curb appeal in the front of your home? Each year, the National Association of Landscape Professionals gathers insight on consumer demand from its 100,000 members and marries it with current data on lifestyle preferences and technological innovations. The result - according to Fox Around The House from foxnews.com, which reports and offers tips on gardening, decorating, on buying a house and maintaining your home - came a report revealing trends in outdoor living. Here are some of trending design ideas that incorporate hardscaping and other amenities available from hardscape product manufacturers that you may want to adopt in 2017.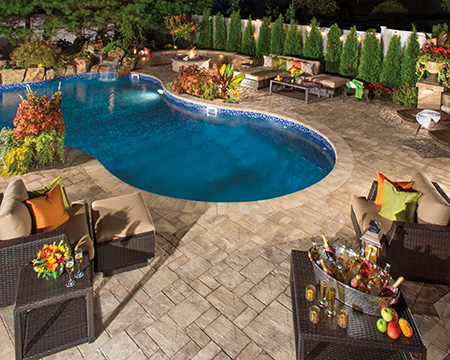 Reports reflected the desire to create inviting and emotionally- gratifying moods in outdoor spaces. Hygge (pronounced "hoo-gah") is a Danish concept centered around feeling cozy that is transitioning outside. The idea can be incorporated in your outdoor space in numerous ways. For example, a fire pit can offer a focal point where family and friends can gather. Water features produce a soothing soundtrack and visual vibe. The right plants and accent lighting can also add to a cozier ambience. Note that a wood- or natural gas-burning fire pit and an outdoor fireplace like those from Cambridge can turn backyards into appealing 4-season gathering areas. Fire pits and fireplaces reflected 71.51% and outdoor lighting 67.83%. For easy incorporation into a design, many come fully assembled and/or in pre-packaged kits in lieu of custom design/builds.
"With this movement to informality has been growth in outdoor living," commented the American Institute of Architects in 2016. "While initially decks, patios, and outdoor grills were the focus, this trend has expanded to fully furnished outdoor rooms." Concrete pavers and manufactured, segmental retaining walls have helped the expansion of related industries such as outdoor kitchens, pools and hot tubs. The reason being, from a designer's point-of-view, the hardscape materials used in stationary patio components made of hardscape materials are easily coordinated both in color and style, to follow an overall design scheme. Among the most popular recreational amenities for 2017 will in fact, include spas (39.68%) and pools (39.23%).
Environment-friendliness continues to remain very much in fashion. Consumers prefer sustainable pavements for their outdoor living spaces, according to the 2017 Residential Landscape Architecture Trends Survey conducted by the American Society of Landscape Architects (ASLA). "Often the percentages of impervious surfaces on residential and lot exceed the limits outlined in the zoning requirements," said Louis, an East Chester, Long Island landscape architect, who presented a Permeable Pavement System from Cambridge - specially designed for rapid storm water drainage - to the municipality as a viable, natural solution for his driveway project.
"From the homeowner perspective," affirmed ICPI (Interlocking Concrete Paving Institute), "the return on investment into backyard utopias is 100 percent or close to it when selling the home." So, 100 percent enjoyment combined with 100 percent return (ROI) resonates as a sensible transaction for budget-conscious homeowners. Consequently, the fully-transferrable lifetime warranty from Cambridge associated with a makeover project, could be a deal-closer for sellers AND buyers.