3 Ways to Beautify Your Yard for Spring
March 22, 2017
Spring's here and it's time to get your yard in top shape to fully enjoy your outdoor living space during the warmer months. Make your yard the talk of the neighborhood this year with new additions to your home courtesy of Cambridge Pavingstones with ArmorTec.

Here are some ways to spruce up your yard as well as some additions you can make to your backyard that will last even longer than just the Spring:
1. Lawn quality
First, you'll need to make sure your yard is in tip-top shape. Winter can really damage the quality of your lawn, so you'll need to revitalize it through some of the following methods:

• Get rid of any debris that may have accumulated during the winter. Rake down any matted areas of the lawn. This will prevent any insect infestations, making it easier for new grass to grow.

• Apply weed-killers during the spring. Weed seeds begin to germinate around 55-60 degrees so if you have the seasonal jump on crabgrass, your lawn will flourish.

• Fertilizing in the spring will give your lawn the nutrients it needs to become strong and healthy throughout the spring and summer seasons.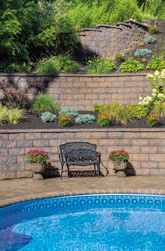 2. Work on curb appeal for the spring
Why stop at just your lawn? Show off your landscaping prowess by contrasting your lawn with hardscaping. A landscape wall will help create different features in your backyard, giving it more depth. A Cambridge Wallstone System can elevate a garden to eye-level, beautifying your yard even further during the warmer months. Cambridge offers several different Wallstone Systems in a variety of colors to give your living space the character it needs. Products like Cambridge's Ledgestone Walls, Curbstones, Edgestones and Stone Veneer offer an aresenal of choices for you to customize your outdoor living space to your liking.
3. Illuminate your backyard
Don't let the night take away the enjoyment of your backyard. With warmer weather in the spring, you and your family are more likely to spend a few nights out late in the backyard. With a lighting system such as Cambridge's LED and Solar Lighting, you'll be able to appreciate your yard during all times, day and night. A Cambridge Hardscape Light Kit is a great way to display your new outdoor living room. If you have a garden as well, a Cambridge LED Uplight Kit will help showcase your green thumb at night time. Your garden may even look better at night than it does during the day!