Go Green in 2017, Cambridge Style
March 13, 2017
Bring March festivities to your kitchen with this seasonal snack. Your family and loved ones will be feeling lucky after eating this St. Patrick's Day dessert. Once you've got this treat in your kitchen, make your house even more green with these eco-friendly Cambridge Pavingstones with ArmorTec products.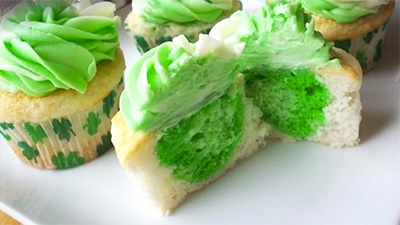 Shamrock Cupcakes:
What you'll need:
• Muffin tin
• Shamrock-designed cupcake wrappers
• 1 (18 ounce) package of white cake mix
• 1 1/4 cups of water
• 1/3 cup of vegetable oil
• 3 egg whites
• Green food coloring
Steps:
1. Preheat your oven to 350 degrees. In the meantime, line your muffin tin with the shamrock cupcake wrappers.

2. Mix the cake mix, water, vegetable oil, and egg whites in a bowl and beat the mixture on a low speed until the mix is smooth. Fill the cupcake wrappers 1/3 of the way full with the batter and set aside.

3. Drop green food coloring into the batter remaining in the bowl to make it green. Pour 1/3 of the green batter into a resealable plastic bag.

4. Mix more green food coloring into the bowl of green batter until it is a darker green and pour that batter into a resealable plastic bag. Cut a corner off of that bag and stick the open tip into each cup of white batter and squeeze 2 tablespoons of the green batter.

5. Cut a corner off of the bag with the lighter green batter. Stick the open tip into the center of the dark green batter and squeeze 1 tablespoon of light green batter into each of the cups.

6. Bake the cupcakes in the oven for 15-20 minutes. Let cool before frosting.
After you've brought this festive dessert to your table, go green in more ways than one this year by including some of Cambridge's eco-friendly products to your home. All of Cambridge's interlocking concrete pavement and wall systems are eco-friendly, recyclable and completely sustainable. Raw materials used in our pavingstones mix formula are all natural and free of environmentally unfriendly contaminants. Another "green" product from Cambridge is our SolaGlo Paver lighting option has no wires or bulbs, and is fully sustainable. Also try Cambridge's permeable pavingstones, which will help prevent erosion from wind, rain and freezing temperatures. With the help of Cambridge Pavingstones, you can make your home "green" inside and out!
Recipe courtesy of: AllRecipes.com