Social Media: A Click-Away Resource For Outdoor Room Ideas
February 20, 2017
Discover the easy-chair art of choosing colors and designs to increase curb appeal, restyle outdoor spaces, and/or create an outdoor room or pool/spa area using the latest hardscaping products right from your mobile device or home computer. Everything from installation videos, actual photo images and homeowner reviews to answers to FAQs and field-proven, professional tips are now instantly at your fingertips.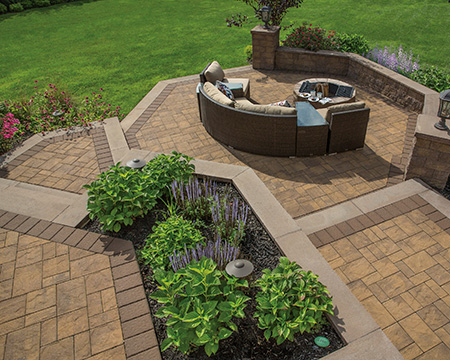 Online network and educational platforms that cybernauts are most familiar with include Google, a hugely-popular Internet search engine used to find information about people and things of virtually any sphere of interest while Instagram and Pinterest, also described as mobile photography, allow registered users to upload, sort, save and manage images and videos. Information, reviews, trend studies and product data can be cross-referenced from one platform to another as well as through commercial websites. Look for the commonly displayed social media links (a.k.a. buttons) across the Internet.
For example, Cambridge - producers of interlocking concrete paver products with ArmorTec®, manufactured landscape wall systems and coordinated amenities for outdoor lifestyles - was featured in the Houzz Brand Book 2017 edition, which highlights brands who they consider to have been strong partners with in the past year. The houzz.com community features photos, articles, product recommendations and user forums covering, among other topics, landscape design and home improvement. The Houzz platform's Influencer Badges are given to pros whose advice and knowledgeable posts are most appreciated by the Houzz community.
Also at your fingertips are many other interactive responses, chats, shares and tags comprising a host of personal experiences. For example, YouTube - a video-sharing website - may just be the multi-lateral resource you are looking for when searching out installation tips, backyard makeover ideas, value-added benefits and national newsroom media segments covering outdoor living as well as comments and creative landscape designs from professionals. Twitter is an online news and social networking service where users post and interact with messages (a.k.a. tweets).
Facebook, the ever-popular, social networking site, makes it easy to connect and share day-to-day occurrences online. Cambridge is one of many savvy, national social media marketers. In the company's first Facebook Live, I will cover the proper planning of a hardscape project and in the second one, maximizing a small patio installation will be addressed. The live dates are Friday, March 24th and Friday, March 31st respectively at 1:30 p.m. Both sessions will be approximately 3-4 minutes long during which times my knowledge on the two topics will be shared. Viewers will have the ability to write in their questions and receive expert answers in real time. Interested parties should be on the Cambridge Pavingstones Facebook page on that day and at that time. Go to https://www.facebook.com/CambridgePavers/info.
Today, around seven-in-ten Americans regularly use social media. In my opinion, the time is now as the outdoor living season is upon us, to search to your heart's content for the ideal match of products, services and added-value benefits that will bring your own outdoor living dreams to fruition.