How To Manage Efflorescence On Concrete Pavers
January 18, 2018
As a proud owner of your new Cambridge Paver outdoor space, you have invested in a long-lasting and durable pavement system that adds value to your home. So, what exactly is efflorescence and how do I get rid of it?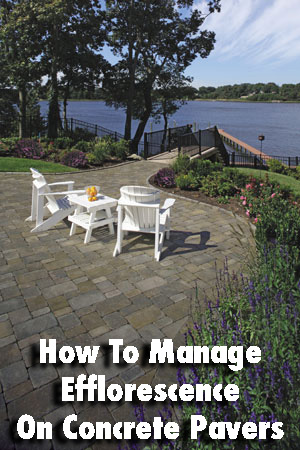 First and foremost, Cambridge Pavingstones with ArmorTec will provide you with rich, distinctive color. If you see a white haze on newly installed pavers, it is efflorescence, a natural and temporary condition that can appear on all concrete products. Not to worry, the haze will wash off over time and in no way affects the structural integrity of the paver.
What is Efflorescence?
Was your new pavement system just installed? You may notice a white haze on the surface of the pavers. Not to worry, this is known as efflorescence. It may appear randomly or in certain areas of your pavement system. Be patient- it is completely natural and will disappear with time as it is a natural process.
How Do I Eliminate Efflorescence?
Efflorescence will stop when no more calcium hydroxide is available to move to the surface. There are cleaners available that can remove efflorescence. These cleaners will enhance the natural beauty of your concrete paver project. We suggest you consult with your local Cambridge Dealer to find an appropriate cleaner.
When Can I Seal My Pavers?
Alliance Brand recommends waiting 1 year before sealing, because the efflorescence process is unpredictable. Before sealing any type of surface, one must ensure that there is no efflorescence in the pavers.
For more information, Click Here.