3 Tips Before You Transform Your Outdoor Space
February 17, 2017
The first day of spring will be here in less than a month and you still seem to be going back and forth with your husband on whether or not you should take on your backyard project. First thing you should ask each other is "what do we want to get out of our outdoor space?" So whether it's a pool side hangout or a zen outdoor oasis, your outdoor living room is an extension of your home and should reflect your family's personality and style.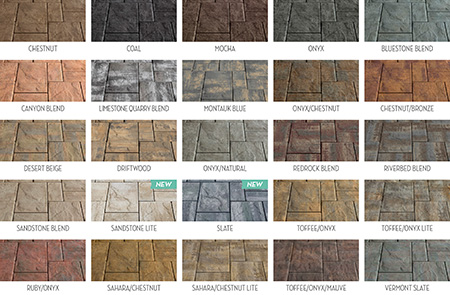 3 Important Tips To Note When Planning:
1. Materials- Choose the right pavement.
As a conscientious homeowner, you want assurance that the pavement for your patio or pool deck will look beautiful for a lifetime, require little to no maintenance, and return its cost to you. Click here and refer to the chart for comparisons of types of pavements to make the best choice.
Cambridge concrete pavers are the best buy. They will create colors that will last a lifetime. Concrete pavers also increase the appraised value of your home without the expense and real estate taxes associated with putting an addition onto your home.
2. Inspiration- Have a vision in mind.
After you ask yourself "how will I use my space to entertain," start to create a vision. Besides browsing through tons of home and garden magazines, pinning your favorite outdoor products and saving Houzz ideabooks, Cambridge offers a free online design software called DesignScape Visualizer. DesignScape Visualizer allows homeowners to upload a photo of their project or space to design and incorporate Cambridge Pavingstone products into their photo to create a visual representation of your project.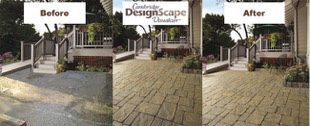 DSV 2.0 now available, go to www.cpvisualizer.com
3. Don't Stress- Choose the right contractor.
Most interlocking concrete pavements are installed by professional contractors who specialize in their construction. They can complete a high-quality job quickly and safely because they have the right equipment and materials. These folks will be able to go to show you the range of paver colors, shapes and patterns available. It's important for your contractor to show you actual samples of the pavers instead of relying on photos that you came across online, in a brochure or a magazine.
Be sure the contractor visits your home before providing the proposal. Ask homeowners in your neighborhood which installer they chose if you love their look. Click here to fill out the "Find a Pro Installer" form. You should be contacted within 72 HOURS. By some chance should you not hear from anyone please let us know at the Cambridge Center by calling 201-933-5000 (ext. 231).