Heart Shaped Treats For Your Sweet Heart
February 08, 2017
Looking for something sweet to share with your loved ones this season? You're bound to fall for these three heart shaped treat recipes that are guaranteed to bring a smile to everyone's face.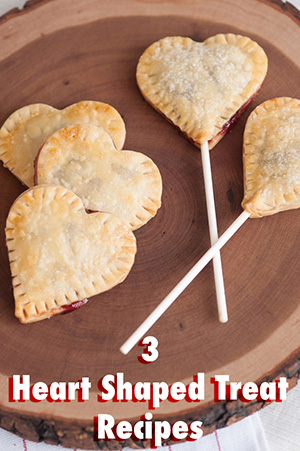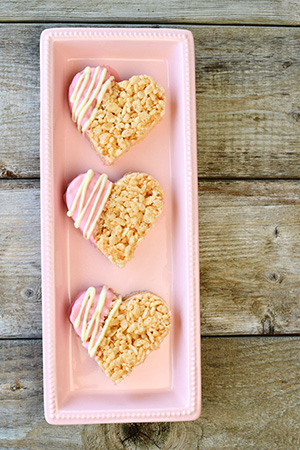 1. Heart Pie Pops

What you'll need:
• Pie dough
• Sugar
• Eggs
• Cherry Jam (or filling of your choice)
• Lollipop Sticks
• Heart Cookie Cutter
1. The first step is easy. Before you start creating these tasty treats, take a second to preheat your oven to 350 degrees.

2. Start the process by rolling out some dough and using your heart shaped cookie cutter to cut out as many hearts as you would like to bake. Remember, each heart is a half so if you have a number of pops you'd like to make in mind, cut double the hearts!

3. Next, drop a dollop of cherry jam or the filling of your choice in the center of half of the hearts.

4. Place a lollipop stick in the center of each half and gently push down, so that it sticks into the dough without pushing through the other side.

5. Once everything is in place, go ahead and cover each heart with its other half. Using a fork, pinch the edges together to seal them off.

6. Lastly, spread a light coating of egg wash and sprinkle a pinch of sugar on top of each pie pop.

7. Bake the heart pie pops for 20-30 minutes in the oven until they're golden, crispy, and ready to serve!


2. Rice Krispies Treat Hearts

What you'll need:
• Butter
• Marshmallows
• Vanilla Extract
• Rice Krispies Cereal
• Pink and White Chocolate Chips
• Heart shaped cookie cutter
1. First, heat 1/4 cup of butter and a pack of marshmallows in a large saucepan over low heat.

2. Once it is completely melted, pour in 1/2 tsp of vanilla extract as well as 6 cups of rice krispies cereal and stir well.

3. After letting the mixture cool, press the marshmallow rice krispies into a buttered pan.

4. Turn the pan over to remove the krispies and start creating hearts using your cookie cutter.

5. Melt pink and white chocolate chips separately using a double boiler. If you have two boilers, melt them simultaneously and if you only have one, melt the pink first!

6. Next, dip half of the rice krispies hearts into the pink chocolate and arrange them onto waxed paper.

7. Last but not least, drizzle these delicious sweet treats with some white chocolate and enjoy!


3. Valentine's Day Cake

What you'll need:
• Cake Mix and ingredients listed on the package (enough for 2 layers)
• Butter
• Frosting
• Red Food Coloring
• Multi-colored Sprinkles
1. Want to create a heart shaped cake without wasting scraps? Here's the solution! Start off by preheating your oven to 350 degrees.

2. Prepare your cake mix as directed on the box. Divide the batter evenly between one 8-inch round and one 8-inch square baking pan. Make sure the pans are greased with butter for smooth removal!

3. Bake the cakes as directed on box and once they have cooled, remove them from the pans making sure that the square and round shapes are intact.

4. Time to make the heart! Leave the square cake whole but the cut round cake in half. Assemble pieces so that the square is turned with its corners pointing out to resemble a diamond and fit the semi circles on either side. If you have a hard time, follow the picture above!

5. Finally, decorate your cake with your frosting and sprinkles and enjoy it with someone special!


Photos courtesy of:
http://www.thesweetestoccasion.com/2013/02/heart-pie-pops/
http://www.intimateweddings.com/blog/diy-wedding-favors-rice-krispies-treat-hearts/
http://www.allrecipecenter.com/2014/02/how-to-make-valentines-day-heart-shaped.html