Pantone Color of the Year
March 02, 2018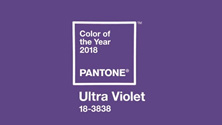 A new year means new trends! An important trend to keep in mind when designing your outdoor living room is color. The Pantone color of 2018 is 18-3838 Ultra Violet. Pantone describes ultra violet as "A dramatically provocative and thoughtful purple shade that communicates originality, ingenuity, and visionary thinking that points us toward the future."

Historically, the color violet has been associated with a mystical or spiritual quality. The color is often used for mindfulness practices, in meditation spaces and in other gathering places to energize and inspire connections.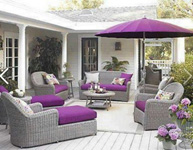 Ultra violet is a great color to use when creating a Zen space. This secondary color can be paired well with yellow, its complementary color on the color wheel. Other colors violet pairs well with often include olive green, bronze, and neutral colors like gray and white.
There are a ton of ways in which you can incorporate ultra violet in your outdoor living space. Outdoor furniture including, cushions, throw pillows and blankets are a great way to mix things up. You can play with your outdoor décor and add subtle hints of ultra violet, whether it be through vases, pots, candles or even your waterfall lighting or firepit glass rocks. Over the warmer seasons you can also incorporate ultra violet or its complementary colors in your landscaping!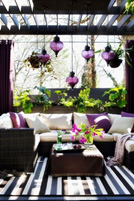 As you can see, there are a ton of ways to add ultra violet to your outdoor living space this year. Use this color along with these tips to create an energizing and Zen space for family and friends!
Photos:
http://www.myhousewarmings.com/blog/2015/7/27/outdoor-room-ideas
https://www.pinterest.com/pin/49891508345214234/?lp=true