"How to Create your Dream Outdoor Living Space" Part Three- Finishing Touches
March 08, 2018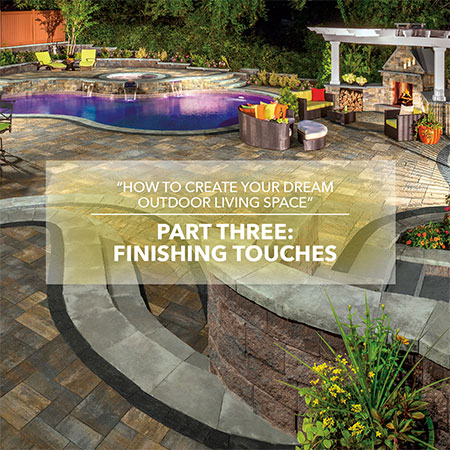 You've done all the heavy lifting, and now it's time to sit back, relax and enjoy your masterpiece…not so fast. Adding decorative elements to your outdoor living space is what makes it truly feel unique to you! This can be anything from choosing furniture to adding pops of accent colors- the choice is yours.
Furniture
Choosing the right furniture is totally dependent on your own personal style. You can go with traditional wicker outdoor furniture or add a more modern wood finish. Already have furniture from your previous backyard? Great! You can always purchase new cushions, covers, or throw pillows to liven things up.
Lighting
There are plenty of options for lighting outdoors. Line your walkways with solar powered lighting or hang string lights to give your backyard a cozy feel. If you don't want to fuss with lighting, some food for thought is Hardscape lighting. Showcase treads, walls systems, columns and pillars without the fear of bulbs burning out. Another option is up lights. These are lights placed in areas to highlight things such as trees, shrubs, plants, etc.
Liven' it up
Add accent colors to your outdoor accessories. Adding décor such as colorful candle holders, baskets for storage, and eye-catching throw pillows can personalize your space. Unique ceiling fans provide a cool focal point in outdoor spaces, as well as functionality for those hot summer days. Think about different patterns to liven it up. Give your oasis that pop that it needs!
What's trending in outside decor for 2018
Styles are constantly changing. However, if your planning on having your project completed this spring or summer here are some design elements that are trending now:
Nostalgia styled furniture (Retro 50's postmodern, industrial)
Soft flooring
Throw pillows and blankets
Focal point art
Bold Palettes
Personality pieces