The Perfect Summer Sangria Recipe
July 08, 2016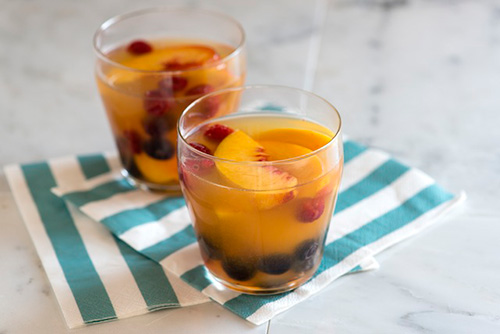 Summer is the perfect time to have a cold drink with friends. With a Cambridge Bar Module Kit, you can entertain guests while creating a wide variety of mixed drinks. A Cambridge Bar Module Kit comes pre-cut and pre-packaged so installation is easy and there is no cutting necessary! Add a Stainless Steel Bar Center Package to complete your home bar. This package comes with a Bar Caddy complete with a faucet, ice compartment, condiment holder, speed rack, and towel holder in addition to a refrigerator and cabinet access door.
Sangria is an easy and tasty drink to share with family and friends.
Below is a recipe to start off the summer fun:
Summer Time Peach Sangria (Makes 8 servings)
Ingredients:
• 1 Bag of Frozen Peaches
• 1/2 cup of Brandy
• 1 1/2 cups sliced strawberries
• 1 1/2 cups of blackberries
• 1 cup of blueberries
• 3 peaches, each cut into 12 slices
• 1/2 bottle of Dry White Wine
Mix white wine, brandy and frozen peaches in a large blender. Pour mixture over a handful of summer fruit and enjoy!