Best Vegetables To Grow In The Winter
December 26, 2017
Many homeowners believe that gardening must come to an end once winter begins, but there are plenty of vegetables that do well in cool temperatures! Keeping your garden going through the chilly months can get you to spend time outdoors, exercise, and give you access to home-grown produce!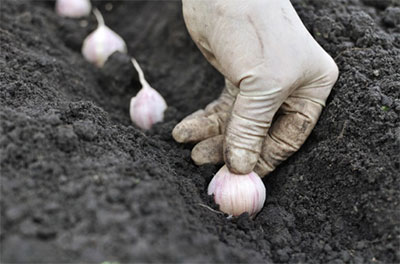 Here are some of the top 5 vegetables to grow in the winter:
1. Garlic:
It has been said that garlic is the easiest crop to grow! Growing garlic needs cool temperatures and you want to plant the garlic 4-6 weeks before the ground freezes. Plant the cloves individually at least 1-inch deep, but no more than 2.5 inches below the surface and about a foot apart from each other. They should be ready to dig up when summer rolls around, but you can always leave them in and let them grow until August!
2. Sugar Peas:
Sugar peas are increasingly becoming the most popular type of pea to grow because you don't need to shell them out of their pods! Sugar peas can be grown in less space and in cool weather. If you plant the seeds directly into the ground, make sure that you plant them one inch deep and one inch apart. The crop can be harvested as soon as the pods have formed.
3. Asparagus:
Asparagus can grow for 20 years or longer if given the right care! You can find asparagus that flourishes in the Autumn, and although it will take two years before they can be cut, gardeners agree that it is worth the wait!
4. Onions
Winter onions can be planted between October and December, up to two-three weeks before the first hard freeze. Onions need sun, so try to pick a sunny spot and make sure to break the soil! The best way to plant bulbs are 1-2 inches deep with 4-6 inches of space between each bulb. A layer of mulch will help your onions grow and you can harvest them once the tops go brown, anytime from the late Spring to the early Autumn, depending on when you planted your bulbs.
5. Lettuce
How great would it be to pick lettuce for your salad from your very own garden? When planting lettuce, make sure that the seeds are between 8-16 inches apart. Water them regularly in the morning for the best growth. Winter lettuce can have a strong and somewhat bitter flavor, so to tone it down, you can cover the leaves with an upturned flowerpot, which will make them paler and less bitter. Once the lettuce has grown about 5 inches above the soil, you can go ahead and cut the whole head off leaving a 1 inch stump for a new batch to re-sprout!
Photo: https://outdoorlivingtoday.com/best-vegetables-to-grow-winter/