3 Easy Finger Foods For Your Outdoor Feasts
June 09, 2016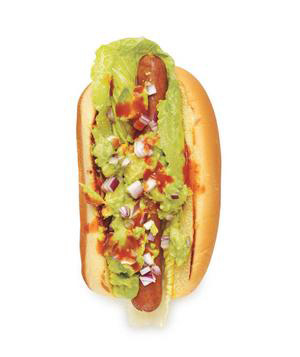 It''s almost summer time and everyone is looking to spend as much time outdoors as possible. There''s no better way to utilize the outdoors than by cooking over a hot fire pit or by making a fresh brick oven pizza right on your patio.
Take outdoor cooking to a whole new level with these different takes on old classics:
1. S''mores - While sitting around your Cambridge Fire Table/Fire Pit, there''s no sweeter way to enjoy the outdoors than by making s''mores. A warm, roasted marshmallow over a bed of chocolate makes for a great fireside snack.
Here''s how to make this tasty treat even better:

• Add some fruit! Adding a few berries or slices of bananas can make this snack just a bit sweeter while adding a refreshing bite.

• Scoop some ice cream. Nothing says summer like a cold scoop of ice cream. Adding some ice cream to a s''more can make for a cold treat to beat the summer heat.


2. Hot dogs - Hot dogs are an essential barbeque food. But why grill them when you can roast them over a Cambridge Fire Pit? Our fire pit kits come in gas and wood burning models and are very easy to install. A fire pit creates a central gathering place outdoors for all of your family and friends to enjoy.
Try adding some of these unique toppings to your outdoor feast this season:

• Tex-Mex spin. Add a dollop of guacamole and some fresh pico de gallo to create a special twist on a summer staple.

• Asian flare. Top your dog with a carrot and daikon slaw. You can also add some cilantro sprigs and jalapenos for an extra kick.


3. Pizza - With a Cambridge Outdoor Pizza Oven, you can walk outside to your patio and make a delicious pizza in no time. Our pizza oven kits come either fully assembled or pre-packaged; we have larger models and smaller models to fit any backyard size.
Create an exotic pie in less than 90 seconds with these unique pizza ideas:

• Barbeque chicken pizza - Instead of applying a layer of pizza sauce, spread barbeque sauce throughout the dough. Marinate some chicken in barbeque sauce and throw it on the grill. Top the pie with chicken and add some cilantro and onions.

• Shrimp pizza - Everyone likes to eat seafood during the summer. Add cooked shrimp and halved grape tomatoes to make an ocean themed pie. Top with fresh mozzarella and garnish with basil and parmesan cheese.


Photos courtesy of:
http://carissashaw.com/family-glamping-weekend-grilled-pizza-raspberry-smores/
http://www.realsimple.com/food-recipes/browse-all-recipes/guacamole-hot-dog?xid=dailyrecnews-07-18-2012
http://www.gimmesomeoven.com/shrimp-fra-diavolo-pizza-pizza-home-chef-giveaway/