Poolscaping Makes a Bigger Splash by Adding Adjacent Amenities
June 08, 2016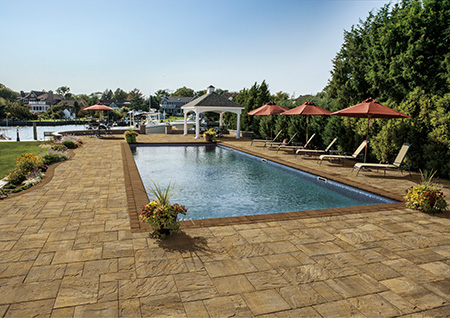 Often it''s what surrounds a backyard pool that makes the difference between having a pool in your backyard and having a pool in the backyard that represents only part of a totally fulfilling outdoor experience. Hardscaping materials such as interlocking concrete pavers, cast stone steps and manufactured wall units in a continuum of styles and colors, easily correlate with other similarly produced materials for pool coping, steps into the water, built-in raised spas, custom waterfalls and overall milieu. But it doesn''t end there.
Color palettes, textures and creative arrangements of shapes can stage a countryside, seaside, or mountainside mood. And because the colors of pavers, for example those from Cambridge with ArmorTec®, are specially formulated to resemble hues found in natural rock formations, pool designers often place large boulders around water slides, in backdrops, as accents, and under diving boards for supplementary effects. Cambridge also offers pavers made from natural quarried stone and travertine to give designers an even broader pavement selection when mixing elements.
Calming Coping Mechanisms
Pool coping, which separates the pool itself from the adjoining pool deck, is usually cantilevered over the edge of the pool. As opposed fiberglass or plastic, it can be built from matching pavers, cast stone or capping materials such as those adaptable from several Cambridge Collections. The various surface and edge designs range from a bull-nosed (rounded) edge that faces the pool to other styles that more closely resemble surrounding pavers. Surfaces vary from smooth to shapes with pronounced, bluestone-like clefts.
Create a relaxing or "party central" setting
Depending on the available space at hand, many conveniences can be permanently placed in close proximity to the pool. You may want to consider a curtained-off pergola; a bistro-style umbrella table; a refreshment bar; a fire pit for small gatherings; and an open-air kitchen, grill island or even an authentic, wood-fired pizza oven for a range of outdoor cooking options. Cambridge offers all of these along with outdoor fireplaces and freestanding, pond-less waterfalls as well as other fire and water features and accent lighting made especially for hardscapes, to add sensual ambiences. Whatever you decide, the outcome will be a common ground for everyone.
Enjoy a peaceful, easy poolside feeling
Benefits range from slip-resistant surfaces to little or no maintenance requirements and easy access to underground utilities around the pool. (Concrete pavers are interlocked in bedding sand without mortar.) With help of Cambridge Design Kits, pre-packaged kits and fully-assembled components, your contractor will appreciate the uncomplicated installs. Also, ArmorTec® colors are made to last even when under intense sun.
Getting started Details and photos of pool and poolside treatments, colors and installation patterns for bringing together the perfect poolscape can be found in a complimentary, Cambridge Outdoor Living Room Guide. The 100 plus-page book is available at any Authorized Cambridge Distributor or by visiting cambridgepavers.com. When the time is right to push the "go" button, consult a professional contractor for budget, timeline, best materials to use to achieve your specific objectives, and final design.