Ways To Take Entertaining Out The Back Door
April 05, 2016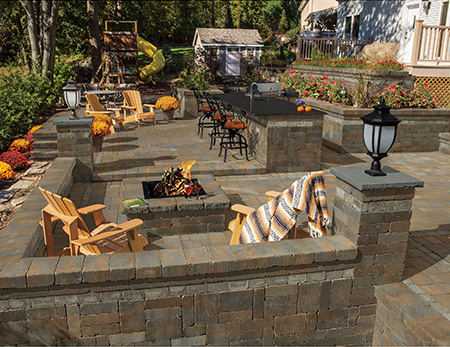 From cozy get-togethers to mega parties, well-appointed outdoor living rooms put the most favored amenities within reach of hosts and their guests. Don''t let the perception of designing and building a stylish, fully featured outdoor living room in a single undertaking put your plans on the back burner. When planning an extensive interior remodeling, homeowners often resort to a sequence of time windows driven by budget or other pre-existing conditions. The renovation may start with a new kitchen and/or bathroom and end up with a great room extension at a later date. The design/build of a functional outdoor space using hardscape materials often follows the same process with surprising continuity if you follow a few steps at the onset.
Before you put your plan into speed dial, consider starting smaller with a modestly sized patio that provides ample room for sunbathing, an umbrella table, or whatever suits your more immediate needs. An adjacent area, with a fire pit for instance, can be added in the second year, a full-kitchen the third year, and a pool or spa after that. But good planning is critical to success.
For homeowners living on the east coast, the average cost at $140 per sq. ft. to add 200 square feet to an existing indoor room or complete a basement conversion would be $28,000. By comparison, figuring on the high side at $20 per sq. ft., the budget for a new, similarly sized 10-ft. by 20-ft. outdoor room using manufactured hardscape materials, would run only $4,000. The result is having a four-season, outdoor space for entertaining family and friends at 14% of the cost to construct/renovate that indoor room.
Choosing a single-resource supplier with a positive consumer satisfaction record will bring reassurance and optimum results. For example, Cambridge - makers of pavers with ArmorTec® for color consistency made to last, wall systems and conveniences such as outdoor kitchens, pizza ovens, fireplaces and fire pits, pergolas and water features - received the 2016 Best of Houzz Award for customer service. Houzz, a respected online community, offers recommendations concerning home improvement including both interior and landscape design based on client reviews and other factors.
Designing an outdoor space can be made simpler by bringing a digital photo of your property to a Cambridge distributor who can create realistic, computer-generated designs on the spot using Cambridge DesignScape Visualizer™ software. A series of images can be modified to reflect completions of your project in pre-designated phases. Each design will reflect various color-coordinated selections in styles of your choosing. Note that all patio components such as kitchens and bar modules are sold fully assembled by Cambridge or in pre-packaged kits that allow you to bypass higher costs associated with custom designs.
Distributor locations can be found at cambridgepavers.com. Ask for a complimentary 100-plus-page outdoor living room guide and the names of certified Cambridge contractors who can offer advice in the planning stages. Discover how multi-season Outdoor Lifestyling™ ideas will fly out the backdoor in first class and arrive with a happy landing right in your own backyard.