Spring Ahead For The Perfect 4-Season Patio
March 26, 2016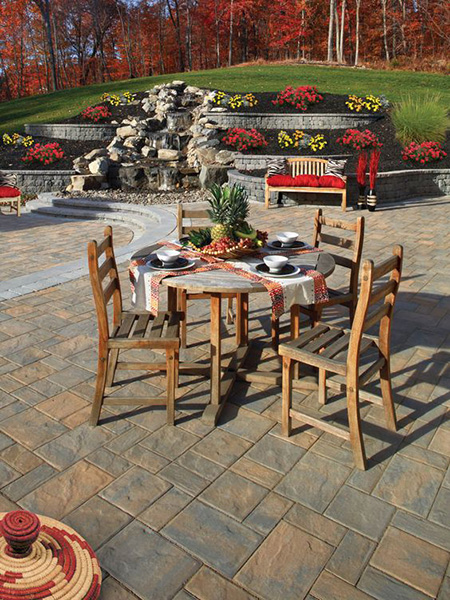 To me, what makes The Four Seasons - the famed group of four violin concertos by Italian composer Antonio Vivaldi - special is that each piece gives a musical expression to a season of the year thus evoking an emotional reaction. Making the right seasonal transitions on a backyard makeover can be just as meaningful. When homeowners put down the right notes in planning a patio, the emotional needs of the entire household are satisfied - season after season - often by bringing the comforts of the indoors out.
According to the American Society of Landscape Architects, 95% of us want a complete outdoor living space with a kitchen. The most popular features also included fireplaces and fire pits at a 96% ranking. There are plenty of models to select from in the 2016 product line-ups from hardscaping brands like Cambridge that homeowners know and trust. Cambridge open-air kitchens, grill modules, outdoor fireplaces and fire pits give you options of fully-assembled models and pre-packaged kits to help consumers avoid costs associated with custom design/build patio projects. And the convenience features of all of them allow consumers to bring the spirit of each season to outdoor experiences with ease and spontaneity.
For example, a Cambridge Fully-assembled Kitchen, Grill Island or Pizza Oven is delivered right to your home and ready to use in less than one hour. The stainless steel appliance packages, tailored to the component, rival qualities and features found in indoor appliances and even those in many commercial-grade kitchens.
Place a bar module or fully-assembled outdoor fireplace nearby and social gatherings will take on a whole new meaning much the same as an open floor plan can do inside a home. Cambridge offers a Fully-assembled Outdoor Fireplace that combines a homey, crackling fire with the sights and sounds of a waterfall, all in one patio component.
If a more cozy ambience strikes your fancy, tone things down with a Fully-assembled or Pre-packaged Fire Pit or Fire Table from Cambridge that will keep friends, young and old, coming back to your place for roasting marshmallows on summer nights, telling ghost stories around the fire in October, and cooking up anything from steak to skewered kabobs all year long.
Not only can activities in a well appointed patio or outdoor living room flow from season to season but also from afternoon soirees to parties under the stars. Set the stage with LED, solar-powered and AC accent lighting, remote-controlled lighted water features and waterfalls also from Cambridge, to create stunning focal points day and night.
If planning to build a new home, re-doing an outside landscape or transforming a backyard is on your list this spring, it would be worth your while to observe what foremost contractors, designers and developers are doing with outdoor spaces. But remember, you get to orchestrate the results. A full score of design ideas also showing Cambridge Pavingstones with ArmorTec®, can be found online at social media platforms and robust websites like cambridgepavers.com. Let the music begin.