Spring Has Sprung, Beautiful Outdoor Decorations
March 18, 2016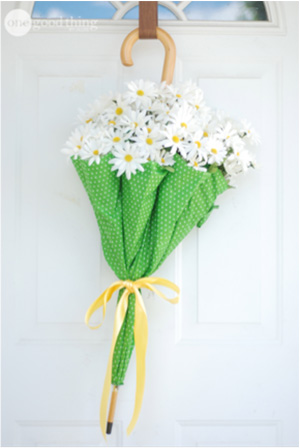 Welcome spring with these beautiful outdoor decorations that will impress your neighbors!
1. DIY Umbrella Wreath: This wreath is so quick and easy to make and is the perfect wreath to make your house more inviting in time for spring. You can really get creative with the colors!
Supplies:
• Silk flowers
• Umbrella with hooked handle
• Ribbon
Steps:
Prop up the umbrella so that it''s standing straight, with the handle closet to you.
Tie the ribbon in the middle of the umbrella, tightly. This is where the bottom of the "vase" for the flowers begins.
Arrange the flowers in the top of the umbrella.
Hang the umbrella from a wreath door hook.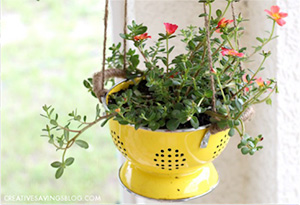 2. DIY Colander Planter: This is such a cute and easy planter to make for the beautiful flowers you plan to plant in the spring time.
Supplies:
• Colander (old or new, the more colorful, the better!)
• Flower
• Potting soil
• Landscape fabric
• Jute string
• Hooks with drywall hangers
Steps:
Cut a circle out of the landscape fabric to fit inside the colander. Once inside the colander, the fabric should cover all the colander''s holes.
Place your flowers inside the colander and fill the extra space with potting soil.
With a very long piece, or as long as you want the colander to hang, of jute string, tie a knot on the corner of one of the handle.
Repeat on the other side. Then repeat on the other handle.
Hang inside or outside!
3. DIY Garden Gazing Balls: This DIY project in time for spring! You can add these to your garden to compliment all the beautiful flowers and plants.
Supplies: • Smooth foam balls, 12 inch and 6 inch, or desired size
• Acrylic paint, to match pebbles
• Blue glass mosaic pebbles, or desired color(s)
• Foam brush
• Glue gun
Steps:
Poke the foam ball with a tooth pick so you have somewhere to hold it while you paint.
Using the foam brush, paint the foam balls with the acrylic paint.
Once the paint is dry, begin attaching the mosaic pebbles to the foam balls by putting a small amount of hot glue on the back of one of the pebbles and then pressing it onto the surface of the ball.
Photos courtesy of: onegoodthingbyjillee.com, jenniferppriest.com, creativesavingsblog.com