3 Ways To Illuminate Your Pavilion or Pergola
December 16, 2017
A pavilion or pergola is a great addition to any outdoor living room. Your Cambridge Pavingstones with ArmorTec outdoor space can be used all year round. Now that it's getting darker earlier, it's time to think about how you can extend the use of your pavilion or pergola by adding light!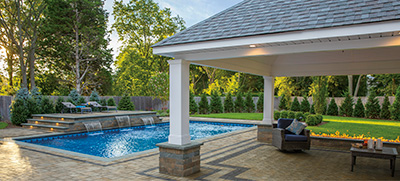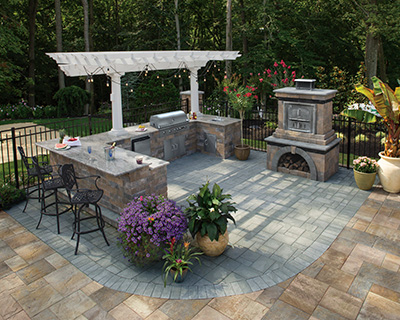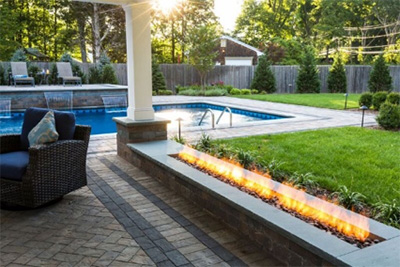 1. Built-In Lights:
Built-in lights on your pavilion/pergola or in your hardscaping will illuminate your outdoor area and make it a convenient hangout spot for evenings and nights. There are lots of options when it comes to outdoor lighting. Cambridge offers the LED iluma Under Rail Light Kit, the LED Path Light Kit, the Hardscape Light Kit, and a complete line of ac powered lighting that can be installed on pergolas or pavilions.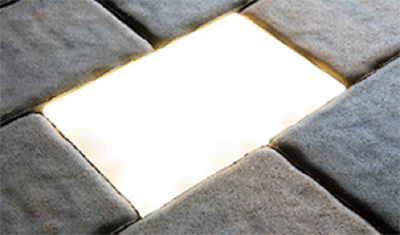 Another solution to dark evenings are Cambridge Pavingstones LED and solar light pavers. LED lights can be put on pathways to brighten walkways, paired with hardscape to showcase walls systems, and arranged with landscaping to illuminate trees and shrubs. SolaGlo pavers are an energy efficient, low maintenance, and a convenient way to integrate lighting into your outdoor living space. They come in various sizes and are easy to install as a border around your existing structure!
2. String Lights:
If your pavilion/pergola has electrical outlets close to them or if you have outlets that are built into the structure, stringing lights are an easy fix to dark evenings. Hanging string lights and lanterns are a unique and fun way to give your patio the glow it needs. String lights and lanterns can be bought at your local home improvement store or you can choose to get creative and start your own outdoor DIY project!
3. Fire Features:
Fire features are a fantastic way to incorporate light in your outdoor living space. A fire place under your pavilion or a fire feature bordering your pergola is the perfect solution to the early end of a day. Fire not only adds light, but also adds heat which you'll surely appreciate on chilly nights. A toasty fire is the ideal and most common way of heating up an outdoor living space during the cooler seasons. Installation of a fire pit or table is quick and easy and the options are endless. Cambridge Pavingstones offers kits in different styles and up to 15 different colors, so you're bound to find something that will pair well with your pavilion or pergola.