Big Benefits From a Small Patio
March 04, 2016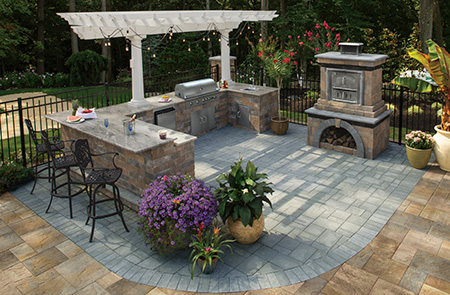 When readers browse through popular home decor and lifestyle magazines in search of ideas for a backyard patio, they are usually teased with grandiose designs and sprawling outdoor spaces, which can be far from feasible due to their individual space requirements. With the exception of occasional articles that appear in do-it-yourself publications that can entail more construction skills and building time then bargained for, rarely will one find professional design concepts for a small patio without minimizing or even omitting some of the key elements that can turn a wish list into reality. However, a solution may lie within the grasp of homeowners with minimal back or side yard space and/or a limited budget, by turning to manufactured hardscape materials. The many inherent attributes and benefits connected with interlocking concrete pavers and segmental wallstones can add up to big benefits in a small patio footprint.
Compare your project to designing a small indoor room such as a kitchen, den or bathroom. Approach your patio design with a similar strategy but realize that an outdoor space, regardless of its size, can be multi-functional. First, figure out what you would like to see in the space to make it as functional as possible given the space you have to work with in your design. Often, a larger impression can be achieved by utilizing materials that offer the most versatility. For example, consider an interlocking concrete pavement system, which is a very durable and aesthetically pleasing alternative to traditional materials such as patio block and poured or stamped concrete.
Use of larger sized pavers, certain pattern designs and a centrally-placed inset of a circular or diamond-shaped pattern arrangement are ways to make a smaller space look bigger. Also placing the pavers diagonally can, depending on the configuration of the patio, result in a wider perception.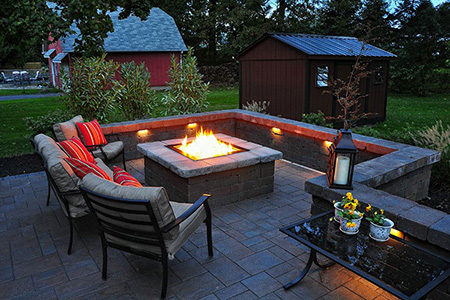 When incorporating a refreshment bar or cooking area, consider "bumping out" these areas from the main patio configuration and surround these sections with garden beds or pathway approaches. For on-demand casual seating, think about a perimeter seat wall or a bench seat notched into a wall system. Both can be built from rock-faced wallstones and allied products from a supplier of hardscape materials.
If stairs are needed to step down onto the patio from a back door, opt for ready to install, cast stone treads in natural colors such as those available in 48" and 72" individual lengths or as a pre-packaged staircase kit from distributors of Cambridge hardscape products. The cast stone alternatives are a more affordable substitute for custom-cut natural bluestone and more durable than wooden steps.
There are several other components of a well-appointed outdoor living space that are available in scaled down versions, yet offer the same conveniences as larger equivalent items. In lieu of a big, straight or L-shaped outdoor kitchen, look into a smaller food preparation and cooking unit made of wallstones. Cambridge Outdoor Kitchen Modules measure only 75" long x 36'' deep. They are pre-cut, pre-packaged and are sold with top of the line stainless steel appliance packages. Cambridge pre-cut and pre-packaged Bar Modules complete with stainless steel bar center packages, are only 92''" long x 42" deep and will survive the elements a lot longer than the best bamboo tiki bar. Another benefit is that these components will match or correlate with pavers or a wall system in your overall design. Cover them with an attractive, pre-packaged, two-column pergola without taking up any additional ground space.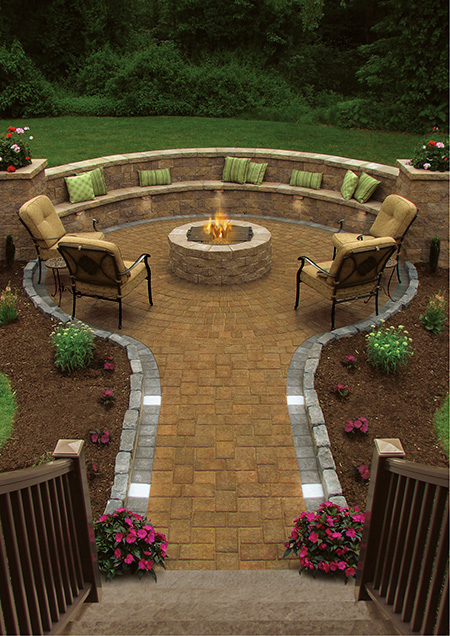 If you have always wanted a fire pit and there isn''t any room for one in your allotted patio space, build one just off the patio itself where it will be accessible a few steps away but visible to family and friends on the patio. Cambridge Fire Pits measuring 50" and less come round and square in an array of textures and colors with grills, spark screens and covers. They are also in pre-packaged kits ready to build. Want to stimulate other senses with a water feature? Integrate a Cambridge pond-less waterfall kit adjoining your patio without taking up greater space normally associated with a cascading, custom waterfall and pond.
If you are still bewildered, consult a professional landscape contractor or an Authorized Cambridge Distributor to help you plot your small patio space. With the assistance of Cambridge DesignScape Visualizer™ software, they can create realistic, computer-generated, full-color designs right before your eyes. This software will allow you to preview the area, before and after, illustrating your new patio with any Cambridge Pavingstones, wall system and outdoor living pre-packaged kit in the actual colors and patterns of your choice and calculate real paver and wall requirements. You will need a digital photo of your back or side yard.
If you are computer-savvy, you can also visit cambridgepavers.com, download the software, and create images on your own. Homeowners who are inclined to take on do-it-yourself projects are invited to attend D.I.Y. Workshops hosted by Cambridge at Authorized Cambridge Distributor locations. Among other topics, the workshops focus on installing a patio as a do-it-yourself undertaking and introduce tips on proper installation methods. Your nearest Cambridge distributor can also be found using a handy search tool on the Cambridge website.