Valentine's Day Recipes That You Will Fall In Love With
February 05, 2016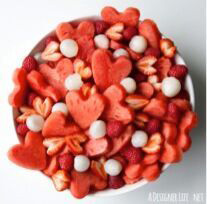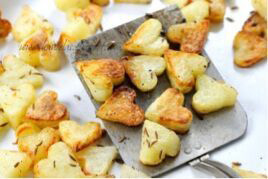 Valentine''s Day is around the corner and we''ve gathered up some delicious recipes that will be sure to get your family in the loving spirit! Whether you''re spending time with family or entertaining guests, these cute recipes will put a smile on everyone''s face.

1. Watermelon Heart Fruit Salad

Ingredients
Watermelon
Strawberries
Raspberries
Any other fruits you like
Steps:
Slice watermelon and use a heart shaped cookie cutter to cut out as many watermelon heart shapes as you can.
Slice strawberries in half, lengthwise.
Combine all the fruit in a large bowl and chill in the fridge.
Optional - cut a triangle in the top of the strawberry to make it look like a heart
Strawberry Brownie Kabobs

2. Strawberry Brownie Kabobs

Ingredients
1 box of brownie mix
2 16oz packages of large strawberries
1 bage of large marshmallows
2 squares of Baker''s melting chocolate
Wooden skewers, cut in half
Steps:
Preheat oven to 350F and spray a mini-muffin tin with non-stick cooking spray.
Prepare brownie batter according to the package''s instructions.
Divide batter among muffin tins.
Bake for 15-20 minutes, or until a cake taster comes out clean.
Allow brownies to cool for 5 minutes, then transfer to a wire rack to cool completely.
Meanwhile, clean, dry and cut the tops off of the strawberries.
Layer the strawberries, brownies, and marshmallows on the skewers.
Lay each skewer flat on wax-paper lined cookie sheet.
Melt the chocolate in the microwave in 30-second intervals, stirring in between. Be careful not to burn the chocolate.
Transfer the chocolate to a piping bag or a zip lock bag with the tip cut off.
Drizzle the chocolate over each kabob.
Transfer the kabobs to the fridge, allowing the chocolate to set.

3. Roasted Heart Potatoes

Ingredients
6 large potatoes
1/4 cup of olive oil
1/-2 tsp of salt
Freshly ground black pepper
2 tsp of caraway seeds, or other spices
1/2 tsp of paprika, optional
Steps:
Preheat oven to 400F.
Line a baking sheet with tin foil and spray the foil with non-stick cooking spray.
Fill a pot with water and bring to a boil, add 1 tbl spoon of salt, and reduce to a simmer.
Meanwhile, peel and slice the potatoes. Using a metal heart-shaped cookie cutter, cut as many hearts as you can into the potatoes.
Cook potatoes in simmering water for 3 minutes, drain potatoes and let cool slightly.
Combine olive oil, salt, papper, caraway seeds and paprika.
In a large bowl, combine the potatoes and olive oil mixture.
Spread the potatoes evenly on the prepared baking sheet.
Roast for 20-25 minutes, turning them halfway through.
Broil the potatoes for an additional 5 minutes to make them golden.
Photos courtesy of:
ericasweettooth.com
designerlife.net
hanielas.com