Enjoy The Holidays In Style - 4 DIY Holiday Projects
December 10, 2015
The holiday season is here and you and your family are gearing up for the busy time ahead. Many people believe the holiday season to be stressful because of all of the party and entertaining preparations. Put those worries aside!

Here are some fun festive DIY projects to help your family get in the holiday spirit!


1. Pine Cone Trees:
This is a quick and easy D.I.Y project to do with the kids. The little trees make great centerpieces!
What you need
:
• Clean pinecones
• Craft paint
• Glue
• Glitter
• Small terracotta pots
• Small aluminum stars
Steps:
Begin by painting the small pots.
After cleaning the pinecones and setting them out to dry (usually takes a day,) paint the tips of them with the craft paint.
When the paint is dry, put a thin line of glue on the tips of the scales and lightly dust on some glitter.
Glue each pinecone into a pot and top it with a small aluminum star.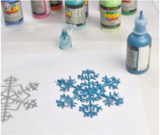 2. Snowflake Window Cling:
Another great project to get the kids involved with. These window clings double as an indoor and outdoor decoration!
What you need:
• Puffy paint
• Freezer paper (Use the slick side)
• Snowflake printable stencil
Steps:
Place the freezer paper over the snowflake stencil or you can go free form, and trace the designs with the puffy paint. Be sure to make the lines extra thick so that it will be easier to peal.
Leave out to dry overnight. Peel when dry.
Cling to the window.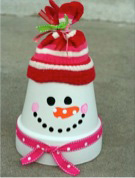 3. Snowman Decoration:
These adorable snowman decorations look great on your Cambridge front steps.
What you need:
• Small terracotta pot
• Craft Paint
• Ribbon
• Old colorful glove
• Hot glue gun
Step
Paint the small pot white and let dry.
With the pot upside down, paint on a snowman face.
When completely dry, hot glue the glove to the top of the pot and tie together with some ribbon.
Tie ribbon on the bottom of the pot and secure with glue.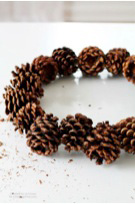 4. Festive Pinecone Wreath:
Create a rustic entrance to your house with this beautiful and easy holiday wreath.
What you need:
• Wire hanger
• Pinecones
• Floral wire
Steps:
Bend the wire to make it in the shape of a wreath.
Cut a piece of floral wire, about 8 inches, and wrap it around the pinecone. Hide the wire in the crevices of the pinecone and twist the two ends together.
Secure the pinecone to the wire wreath with the remaining floral wire.
Continue adding pinecones until the wreath is full. Be sure to keep the pinecones close together to hide the wire hanger.
Photos courtesy of:
Scissorsandspoons.com
Club.ChicaCircle.com
iheartnaptime.net