7 Ways to Make The Most Out of Your Small Backyard
September 22, 2015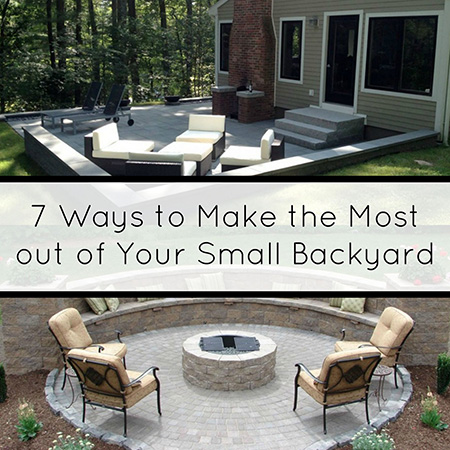 So you want an amazing outdoor living room, but don''t have a ton of space in your backyard? That''s okay! You can get big benefits from a not-so-big area. Here are a few ideas to get you started:
Be mindful of scale. If your backyard is small, you don''t want to fill it with big amenities. Look for smaller sized outdoor amenities like a fire pit or water fountain. They''ll fit in your backyard without making it feel crowded. If you have your heart set on a larger outdoor amenity, like an outdoor kitchen or fireplace, look for manufacturers like Cambridge Pavingstones who make smaller sized versions of those amenities.


Trick the eye. When having your patio installed, work with your contractor to see how you can play with angles. Simply shifting the angle of your pavingstones can give the illusion of a bigger backyard. (Bonus Tip: Larger pavers will also help create the illusion of a bigger space.)


Pick a statement piece. Be it a colorful couch, an eye-catching potted plant, or a luxurious waterfall, choose one standout point. Drawing your guests'' eye to a particular area of your patio will take their attention away from the size of your space. They''ll be so focused on your impeccable decorating, that they won''t notice the size restrictions.


Add a step, or two. Changing the elevation in your backyard will create the illusion of multiple rooms and more space. Consider adding a step or platform when you''re planning your backyard. Just remember to keep the materials the same across all levels, as it will help create continuity.


Small landscaping, big impact. A small backyard can easily be overwhelmed by greenery. If you have trees or shrubs, be sure you keep them trimmed back and out of the way. If you''re working with potted plants, go with a few smaller pots so they don''t take over the space.


Keep it simple. You may have a lengthy backyard wish list, but when working with a smaller backyard, less is more. Make sure your space isn''t too crowded. Your guests should have room to move around without bumping into the decor, or each other.


Let your space breathe. Pergolas and pavilions are wonderful, but not when it comes to a small backyard. Covering over your outdoor space will only make it seem smaller. This goes for tall plants or decor as well. Everything doesn''t have to be miniature, but you want to avoid anything that towers over you.