Freshen Up Your Landscaping This Fall
September 16, 2015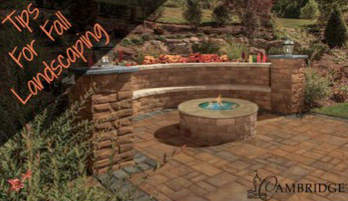 Fall is a great time of year to update your backyard landscaping! The changing of seasons creates beautiful collages of colors and you can bring that beauty into your backyard!
When landscaping for the fall, one of the first things you should do is spread mulch around your plants. Mulch will help maintain moisture for the plants and trees on your property and also assist in preventing roots from being damaged by frost. Mulch can be found in a few different colors, so head over to a local garden center to see what catches your eye!
You''ll also want to be sure to keep up with lawn maintenance. Your lawn may not be growing as fast as it did in the summer months, but it still needs to be fertilized and trimmed. Staying on top of lawn care will help prevent damage during winter months.
Now that your lawn is taken care of, it''s time to think about greenery. Try adding texture and vibrant fall colors color to your backyard. Consider planting evergreens as a backdrop for the rest of your plants. Evergreens will stay beautiful year round and are great for adding privacy to your yard.
For that pop of color try an oak leaf hydrangea or an assortment of mums. Both of those plants have bright red, yellows, and oranges and will be a stunning focal point. To make your landscaping stand out even more add layers. Start with the evergreens, then plant smaller shrubbery in front of that, then finish it off with smaller flowers or potted plants.
And don''t forget, hardscaping goes hand-in-hand with your landscaping. To ensure you get the most out of your hardscaping, remember to regularly remove fallen leaves and rinse off any dirt. Fallen leaves may look beautiful, but if left too long they can become a safety hazard. If you don''t have a hardscaping area in your home, consider adding a small patio to your landscaping plans.
And whatever your plan may be, don''t forget to take time to enjoy your hard work!