Before and After: Transforming Concrete Slabs
August 19, 2015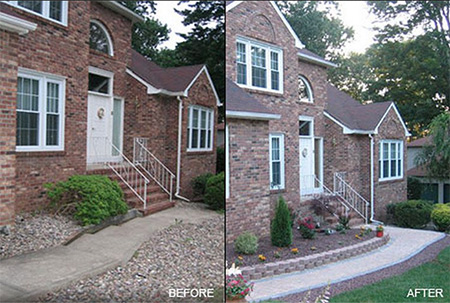 These concrete slabs were transformed into an exquisite entryway using Cambridge''s Sherwood Collection Random Design Kit in Salmon/Onyx with a Circle Kit and a 6 x 9 Onyx border.
The RoundTable Collection features dimpled, embossed surfaces that gently roll into soft beveled edges on straight-sided Cambridge shapes. This ever-popular collection also includes Design Kits, which can be integrated into, or used to create, unique pattern designs.
The Random Design Kit consists of four different Cambridge Pavingstone shapes in the proper ratio to complete appealing, randomly laid patterns.
The Circle Design Kit provides six Cambridge Pavingstone shapes to create circle patterns in an array of design options