Before and After: Relaxing Outdoor Oasis
July 29, 2015
This backyard was transformed into a relaxing outdoor oasis by John Sparrow Landscaping. The beautiful pavingstone patio was created using Cambridge''s Sherwood Collection Ledgestone 3-Pc. Design Kit mixed with 18x18 in Sahara/Chestnut, bordered by The RoundTable Collection 6x9 in Chestnut. Cambridge''s Stone Veneer in Canyon Ledge Autumn Blend was used on the custom kitchen, fire pit, columns, and home facade. This gorgeous backyard also features a Cambridge 4-Column Pergola Kit.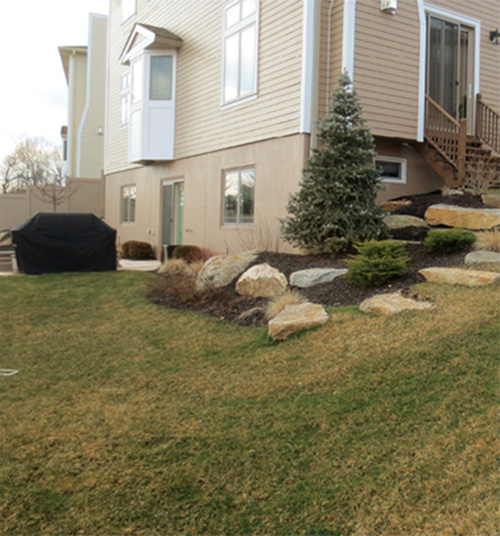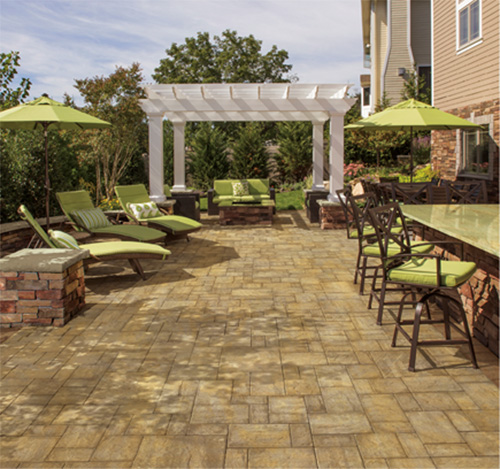 The Sherwood Collection from from Cambridge features uniquely different Cambridge shapes, surfaces, and design kits. The exciting designscaping possibilities presented by this collection are captivating the creative motivations of professional landscape architects, designers, and contractors.
The Ledgestone 3-Pc. Design Kit is a combination of three extra-large, square and rectangular, modular shapes with prominent, bluestone-like clefts on their surfaces. The 18 x 18 modular component is packaged separately from the other three combined shapes in Ledgestone 3 Pc. Design Kit.
The RoundTable Collection features dimpled, embossed surfaces that gently roll into soft beveled edges on straight-sided Cambridge shapes. This ever-popular collection also includes Design Kits, which can be integrated into, or used to create, unique pattern designs.
Cambridge Stone Veneer is molded from time worn, natural stone found in ledges and valleys of native America. Cambridge Stone Veneer is offered in 3 distinctly different styles. Canyon Stone retains all of the dimensional characteristics of the handpicked pieces from which it was cast. The randomly placed, yet tailored, linear patterns created with Castle Stone will mimic the grand facades of medieval manors, while the rustic look of Tuscan Fieldstone is reminiscent of rural, old country cottages.
Cambridge Outdoor Kitchen features custom qualities with fully-assembled convenience! Put all of the amenities you need for food preparation, cooking and grilling within arm''s reach in the custom configuration that is perfect for you. Whether "L" Shape, "U" Shape or Straight you can arrange the components to create the kitchen of your dreams.
Cambridge Fire Pit Kit puts both scenarios in your own backyard in real-time, any day and any season. Fire pit kits come in easy-to-assemble pre-packaged kits and are available as round and square and in both gas and wood-burning models.
Cambridge Pergola Kit provides a pleasant respite in a resort-like venue and provides some shade from the hot sun. All Pergolas are constructed of high strength, low maintenance fiberglass. They come in pre-packaged, easy-to-install kits