Hardscape Industry is Redefining the Backyard Bar Scene
July 17, 2015
If your idea of gearing up for a Hawaiian luau, weekend poolside party or full-fledged entertainment haven this summer season means dragging out that wobbly old, bamboo tiki bar from the shed to squeeze out another round of backyard partying, think again. Hardscape products companies like Cambridge, makers of interlocking pavers with ArmorTec® and wall systems, have changed the patio landscape once again by adding another dynamic to backyard get-togethers - the built-in refreshment bar. Because they are built of durable, manufactured hardscape materials and feature appointments that rival even those found in the best indoor man-caves or great rooms, they remain in place once summer is over for use well into the fall.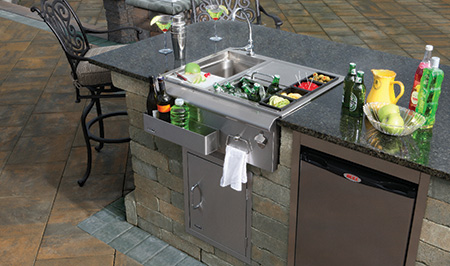 Pre-packaged Bar Module Kits from Cambridge come in two styles with granite bar top and wrap around footrest and are complete with a professional-grade, fully-equipped stainless steel Bar Center Package (pictured).
Your hardscape designer or contractor can custom design one of these outdoor amenities in colors that match or coordinate with the pavers on the ground, the perimeter walls around your patio space or yard as well as your homes facade. It can be a stand-alone bar, integrated into an open-air kitchen, or be featured in a multi-purpose outdoor living room depending on your personal preference and the patio footprint that is plotted in your backyard. Again using manufactured wallstones, the refreshment bar can be placed near a low seat wall that lends itself to added impromptu seating adjacent to the bar itself.
In recent interviews, homeowners said that the colors, styles and ideas that discovered in the 108-page Cambridge Outdoor Living Room Guide made the design of their outdoor spaces easier. The clean lines and built-in designs you will see in the Guide allow you to take your creativity from genteel-bohemian to classic alfresco stylings by flavoring the surroundings with potted palms, exotic specimen plants or even a cluster of patio tomato plants.
If the design/build of a custom refreshment bar is a little daunting, Cambridge offers pre- packaged Bar Module Kits in two styles: Olde English Wall™ with aged stone characteristics and MaytRx® using one of Cambridge''s most popular, classic wallstone products. Both kits are sold complete with installation instructions, a Bar Center Package and convenience features, which include:
a bar caddy complete with sink and coldwater faucet
an ice compartment
removable cutting board
condiment holder with four compartments
speed rack, towel holder and bottle opener
refrigerator and stainless steel access door to space below the counter
The instructions also tell you how to run power up through the bottom of the bar to an outlet for lights and appliances such as a blender (a backyard Margaritaville essential). If you are considering an interlocking pavement for your patio, the circuit cable can be installed on the sand under the pavers. And if your Cambridge Bar Module is an after thought, merely lift the pavers and set the cable wire on sand and then reinstall the pavers. Cambridge offers many lighting options specially designed for their products including ambient paver lights and wall lighting that can be added to the bar.
Add one or more matching, pre-packaged Cambridge Patio Pub & Bistro Table Kits that will each seat up to eight people to complete your bar-side atmosphere. The table kits with round or square granite or cast stone tops come in two styles and in colors to match the bar. A 2-inch diameter hole for an umbrella (not included) is predrilled in the top.
Don''t let the hot summer sun and unexpected storms spoil your outdoor lifestyle. Custom tailor a Cambridge pergola- or pavilion-topped outdoor room to cover anything from a party-friendly refreshment bar to an outdoor kitchen with stainless steel appliances and/or pizza oven eliminating indoor cooking and/or save time and money on off-premises catering and delivery for your backyard event. Cambridge Pergolas and Pavilions, pictured in the Guide, also come as pre-packaged kits in different sizes and styles to accommodate practically any applicationx.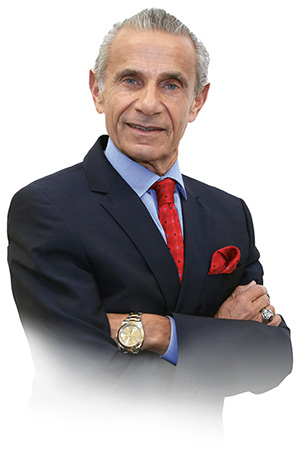 Find out how to be the host with the most by putting yourself in the heart of the party. Talk to a professional contractor and "party-on".
About the writer:

Charles H. Gamarekian is the Chairman/CEO of Cambridge Pavers Inc. He is one of the founders and a current board member of the Interlocking Pavement Institute. Organized in 1993, ICPI is the North American trade association representing the interlocking concrete paver industry and considered by peer associations around the world as the leader in development and dissemination of technical information for design professionals and contractors. Mr. Gamarekian is recognized worldwide as an expert in his field and is a frequent speaker on the proper installation of pavingstones, wallstones and many outdoor living products.