Creating a Cozy Fall Outdoor Space
October 02, 2020
During the cooler months, creating a cozy atmosphere in your outdoor space is a must! As the temperature lowers, you want to make sure your family is comfortable and warm spending time outdoors. Here are some tips and tricks to get the most out of your outdoor living space during the fall season this year!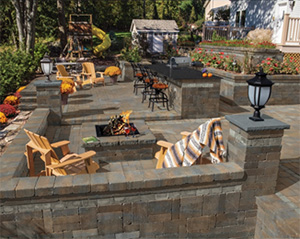 During the fall it starts to get chilly at night, so having plenty of blankets and pillows to keep comfortable is important. Incorporate fall colors into your space by adding these accent blankets and pillows in warm tones. Red, orange, deep purple, and brown shades will add fall vibes in your space and create a seating area that you and your family won't want to leave!
As it becomes darker earlier, lighting is important not only for visibility but to set a mood. Adding candles or lanterns to your outdoor space will create intimate lighting for your guests. Feel free to incorporate fall scented candles into your space such as apple pie, or pumpkin spice!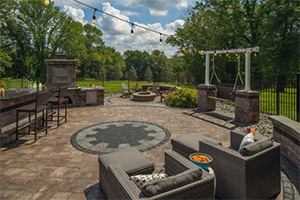 Outdoor dining has become more and more popular recently due to the current world climate. With a Cambridge outdoor grill or pizza oven, you can create a delicious meal to enjoy with your family this fall! Check out our other blog posts for some of our favorite fall recipes to cook outside here: https://cambridgepavers.com/blogs-view/1243/tips
Fire features are always a must for the cooler season. A firepit or fireplace can be the center of your space while you and your family get warm and comfortable for dessert or a cocktail!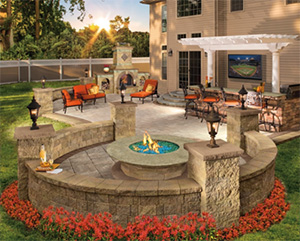 Adding an outdoor fireplace to your space not only provides warmth for the fall and winter months but adds an inviting ambiance. Whether you want a romantic, relaxing, or social atmosphere a fireplace is the way to go! Grab your wine, a blanket, and snuggle up with family to conversate after a long day!
Using these tips and ideas while creating your outdoor space will keep it cozy for your fall entertaining!