OLDE ENGLISH WALL
Please click here to see 2023 available products.
Shapes & Available Color Choices:
Shape
Description
Available Colors
4" High x 8" Deep x 12" Long
Sahara/Chestnut/Lite shown
View Colors
4" High x 8" Deep x 12" Long
Limestone Quarry Blend shown
View Colors
The 4 in. high, 12 in. long and 8 in. deep modular size is simple to use for tumbled freestanding walls, steps, edging and more. Maximum wall heights are 20 in. for freestanding and retaining walls without glue; 30 in. with glue; and 72 in. freestanding and engineered.

Note:
All dimensions quoted in this catalog are nominal and are for guidance only. Actual sizes will vary, particularly on the products designed to replicate natural stone which have features such as riven profiles and fettled edges. The size and quantities given usually allow a nominal 5mm or more of sand joint width.
NON-TUMBLED OLDE ENGLISH WALL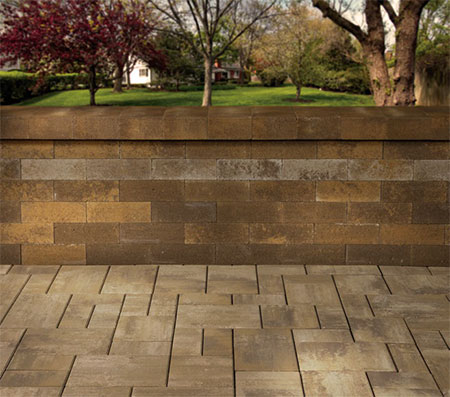 Your final selection should be made from actual samples obtained from your Authorized Cambridge Distributor or professional pavingstone contractor. Cambridge Pavingstones colors match or complement Cambridge Wall Systems colors. If you cannot find the color you are looking for, inquire about The Cambridge Custom Color Program through any Authorized Cambridge Distributor. The Cambridge ColorLab can match any desired color.
OLDE ENGLISH WALL™ A LOT OF VERSATILITY FROM A SINGLE WALL UNIT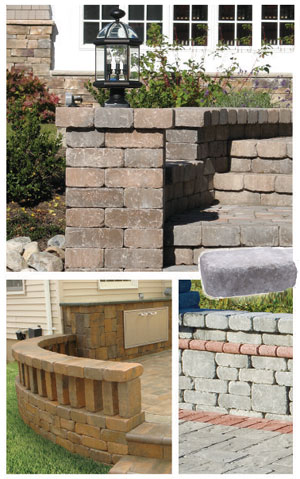 It's Modular!
The universal size (4 in. high x 8 in. deep x 12 in. long) and efficient design allow wall units to be placed in unlimited patterns - from staggered running bond to random placement in straight, curved or serpentine walls - with little or no cutting. Vertical "soldier" units can be interspersed throughout the wall design - face side out or top side out. The multipurpose shape also doubles-up as a cap. The tumbled units have distressing on all surfaces for a natural stone look any way it's viewed. No individual corner stones are needed.
Adaptable!
- The 12-inch length is the perfect dimension for most projects. Maximum wall heights are:
20 inches with proper backfill for freestanding and retaining walls without using glue
30 inches with proper backfill and glue
72 inches for freestanding and engineered systems with Cambridge Universal Geogrid
Double-sided!
- Ideal for:
Freestanding walls
Retaining walls
Planter and garden walls
Seat walls in traditional and "domino" designs
Outdoor kitchens and bars
Columns
Steps
Edging and curbing (example: in lieu of Belgian block)
Color coordinated!
- Wall units are available in four natural stone blends, which match or complement Cambridge Pavingstones colors.
Toffee/Onyx
Ruby/Onyx
Onyx/Natural
Sahara/Chestnut
Golden/Onyx
Sahara
CAMBRIDGE OLDE ENGLISH WALL™ SYSTEM - PATTERNS & COLORS
When wall units are stacked vertically on a 4 in. side, another unit should be placed behind it to create an 8 in. wall thickness.
After building the base to recommended specifications, lay the wall units as shown to make a 20 in. x 20 in. column. Overlap the vertical joints from the previous course. No cutting is necessary.
Inquire about other Cambridge Wall Systems, Pre-packaged Column Kit made with MaytRx 6® and Complete Pyzique® Barbeque & Fire Pit Kit.
Cambridge Pre-Packaged Olde English Outdoor Fireplace Instruction Manual