START PLANNING TODAY
Make Your Outdoor Dreams Come True!
Ever feel like time is flying by? In the blink of an eye, your outdoor patio plans keep getting pushed aside because life gets in the way. Before you know it, another year has come and gone. Why not make your backyard dreams come true with Cambridge Pavers, so you can sit back, relax, and enjoy life outdoors all four seasons!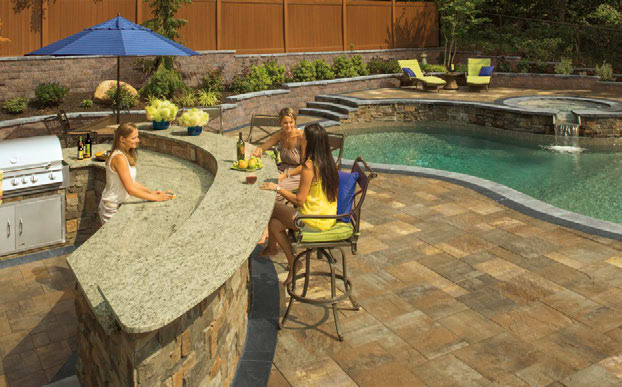 So many homeowners dream of creating a beautiful backyard but don't know where to start. Here are some simple tips on the best way to go about the planning process.
The first thing you need to do is ask yourself is, "How do I envision myself using this space?"
» Are you looking to host family & friends?
Consider incorporating a Fully Assembled Kitchen and Fireplace into your design to create the ultimate outdoor living room.
» Are you looking to create a space where you can relax and unwind?
Consider adding a Bar Kit, Bistro or Pub Table, and Fire Pit to create the perfect stay-cation destination.
» Are you looking to create a space you can enjoy all year round?
Add a Pavilion and an Eternal Flame into your design, and be covered in style.
Any home improvement endeavor is an investment, so take time planning your outdoor space and picking the right contractor for the job. Need help finding a contractor? Then visit our website and click on Need a Pro Installer, located under the Homeowners tab on the homepage. Once you have decided on products and colors, and executed a contract be sure your contractor places an order with an authorized Cambridge Distributor immediately to ensure timely delivery.
Beauty images in a catalog or on social media are great for inspiration, but you must see products and colors in person to be sure before making the final decision. Want to visit an authorized dealer near you? Go to the Dealer Locator.
Most importantly, you do not have to accomplish everything on your wish list all at once. Be transparent with your contractor about your budget so that everyone is on the same page. That way, he or she can plan to work with you in phases over time, to meet your ultimate goal.